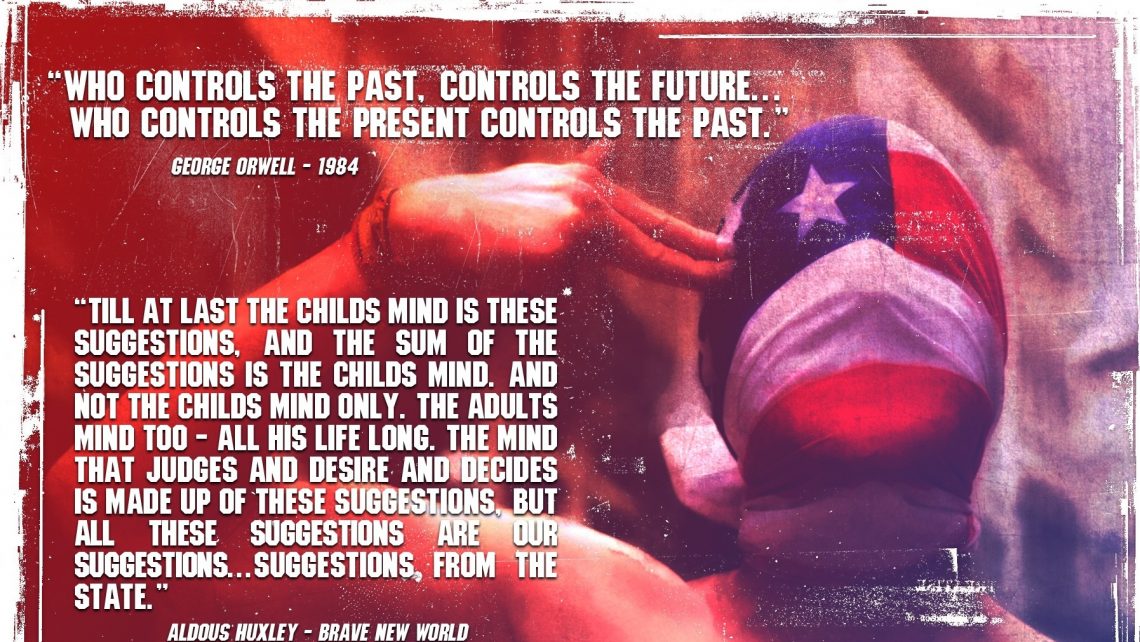 History, Lies, and the Importance of Self-Work and Critical Thinking
By Bernhard Guenther, April 25th, 2013

Recently I've watched the documentary "Adolf Hitler – The greatest story never told" and have been digesting the information and contemplating on the implications, mainly about history in general and how important it is to get at the truth and understand and know our true history, because it does affect our present and future in ways most of us are not aware of. Shutting it out, denying or ignoring it, while just hoping for a better future (especially in New Age way of "just focus on the positive and ignore the negative") won't work and is actually working against "us".
My intention with this article is not about getting into the details presented in this documentary. What I'd like to address is the importance of critical thinking, self-work and understanding of our history.
"Who controls the past, controls the future. Who controls the present, controls the past."

– George Orwell, 1984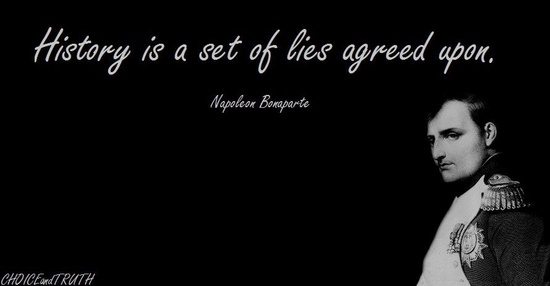 Facing the truth about our history and what has really happened in our world as opposed to what we've been told and taught by official culture is not an easy task. Not only does it require discernment, critical thinking and research, but also, most importantly, sincere self-work, de-programming ourselves from the conditioning and lies of official culture most of us aren't even aware of, essentially the lies we tell ourselves for the sake of self-calming. We create and maintain buffers not to "rock the boat" to stay in our comfort zone, go on "living" and "fitting in", shutting ourselves off from any information that may disturb the bubble of our subjective reality. We believe that nothing will affect us as long as we put a blind eye on these topics. That's the belief of many people, especially in the so-called New Age with its distorted idea of "you create your own reality".
Some people say, we need to stop pointing out the problem and what is wrong with the world but present solutions. Yes, constructive solutions (not wishful thinking) are needed, but if they are not based on understanding what the "problem" truly is (i.e. understanding our true history and the relating topics of Psychopathy and Ponerology), then these "solutions" are built on a false and shaky foundation, as history is repeating itself if we don't learn from it and we will create (and are already creating) more problems down the road, regardless of how well-meaning our intentions are. The most shocking realization I had watching this documentary was how much of what has been going on back then is still going on today. It really showed how far away we actually are from a significant "shift in consciousness".
Lies are like viruses. They can spread quickly and far, even without awareness of the ones infected by them. We all can spread disinformation and lies unconsciously if we don't make the effort to question, engage our critical thinking abilities and network with others to gain objectivity (of course there is the denial of post-modern sophists who claim that there is no objectivity or truth.) Then there is the disease of "social status", our self-importance , which is in the way of speaking out because some of us are so concerned about what others think of us, be it our family, friends, co-workers or even Facebook "friends". We are more concerned about ourselves, our image and our careers than standing up for truth and justice, because speaking the truth about our world may not make us much money and may interfere with our personal goals.
This narcissistic behavior is very prevalent in this day and age, especially in many "spiritual" inclined people with their distorted view on love, positivity and enlightenment, mistaking spirituality for hedonistic pleasure. Then there is laziness, the disease of boredom and the ever shrinking attention spans which keep people from reading or even watching this documentary. "Having no time" is really mostly an excuse because you always can "make time" to educate yourself, even if it's just a little bit every day. If you have time to be on Facebook, you certainly have time to read books or watch documentaries and certainly time to speak out about it.
Fact is we are all connected and everything that happens and has happened in our world does affect us, regardless if it's something in our personal lives or in a country far away.
"Injustice anywhere is a threat to justice everywhere. We are caught in an inescapable network of mutuality, tied in a single garment of destiny. Whatever affects one directly, affects all indirectly. He who passively accepts evil is as much involved in it as he who helps to perpetrate it. He who accepts evil without protesting against it is really cooperating with it."

– Martin Luther King Jr.
As a fb friend wrote recently:
"By exacting education, objective discernment and of course a lot of other healing work, this all works with uncovering what perceptions we basically rely on and extend into our lives, deceiving ourselves. Interestingly, there are a lot of people in total fear of looking at the truth, as in reflecting this story and other famous atrocities that have happened in history, they cannot stand watching or reading about it. Be not afraid to reveal what comes up for you, as it is clearly a plutonian exercise and part of deep healing."
Another person also addressed this issue of "making the darkness conscious", relating it to the distorted understanding of being "positive":
"The ability to hold Light is directly proportional to the courage to see darkness. Choosing to see just one creates distortions and illusions. It amazes me that something so simple and common sense can be so difficult to even discuss with 'spiritual' people who insist on remaining 'positive'. Actually, this avoidance is based on unacknowledged fear that their inner light might be somewhat 'dispersed' by seeing darkness and therefore not giving the light much credit at all. I think there's also fear that they might somehow become 'tainted' or the darkness might 'manifest' in some form in their lives. But the opposite is true; it is the fear, especially unacknowledged, that has much more chance to manifest than darkness exposed to daylight and investigation. Just like we must be fearless about our own inner shadow, we must also be fearless about seeing this huge shadow of humanity. Or we will have the power to transform precisely nothing, within or without."
After I finished watching the documentary I picked up the latest book of historian Laura Knight-Jadczyk, "Comets and the Horns of Moses". At times the universe provides the right book and passage at the right time. What I read very much related to what I just saw and was thinking about. She points out the necessity to engage in sincere self-work so our views and ideas about history and the world is not filtered and distorted through our conditioned bias, emotional attachments and cultural/familial beliefs:
"[…]Anyone who seeks to do research of any kind needs to always keep their own biases in mind and make efforts to calibrate their perceptions accordingly. (If you think that you have no bias, you are suffering from a particular bias! Please read "Strangers to Ourselves" by psychologist Timothy Wilson and "Thinking, Fast and Slow" by Daniel Kahneman.)[…]"
With regards to lies and history and relating it to this documentary, consider what she wrote here:
"[…]I would like to ask the reader a question to set the stage for what I want to convey here. Have you ever, as a child, been accused of something you didn't do, either by your parents, teachers or other 'authorities'? And if so, were you punished unfairly for this something you didn't do? Do you remember how it felt?

As you remember , can you feel the frustration, the helpless anger and resentment that you "told the truth and no one believed you"? YOU know what you did or did not do, and no one can take that away from you. But they have taken away from you the right for that truth to be known by others, which means they have taken away the right of others to know the truth about you. You have been slandered and punished, and there is NO WAY you can prove that it was wrong and unjust, and all the other people will have a 'history' of you that is false. In fact, this knowledge that others will have false memories of you, will have false ideas about what you did until they die, hurts almost worse than the punishment. What is more, in a vague way, you can perceive that those who believe the lie have been deprived of something valuable about you, a sharing of the real you: the truth that you did not do what you were accused of doing, and that you did tell the truth. A barrier has been erected between you and the others – the barrier of a lie.

Now expand that concept just a little bit. Imagine that such false accusations, false stories, are being told about history at large, the history that defines your origins. The only difference is that it is not a personal lie against you, and you do not therefore have the advantage of knowing that it is certainly a lie. Instead it is a social lie, a lie about your origins and what is real and what it is not, that has been widely disseminated and accepted as truth by most people.

Imagine that people are born, live their lives, and die believing lies where they came from and how they got where they are, and the reasons for all exists in the world around us. Just like the people who believed the lies about something you didn't do, people have been separated from the truth by the barrier of lies.

As you probably know, the event from your childhood may have been small in terms of your entire life history, but still, there are those who judge you based on that lie, and all your subsequent history follows from those beliefs about you. Now you, and everyone else who believes those lies, judge the world and other people based on the lies about human origins and what is real. And the result is very, very bad.[…]"
In another discussion about the film someone said:
 "It's interesting to learn the history and also to observe the internal process of having cultural beliefs challenged."
Yes, especially observing the internal process and how deeply programmed we are, the friction that occurs inside when presented with information that contradicts our long held beliefs. That's when most people stop and deny, because piercing through that conditioning can be very painful and vulnerable. It's always been for me. It's part of "the work". But once you let the internal programs break down under the light/sword of truth and work through the discomfort of accepting information that contradicts what you have believed most of your life and what most of the world believes (not mistaking that for blind belief of anything that comes down the pipe line, but always engaging your critical thinking to the best of your abilities, and networking with others who can help point out your subjective blind spots that you cannot see), then you truly raise your consciousness.
Gaining Knowledge with discernment and doing the internal work to dislodge any cultural/social programs is the path towards awakening, not thinking "happy thoughts" or "focusing on love"…well, yes, focus on love, but love in its truest sense is Knowledge, not necessarily an emotion or feeling or what most people think of "Love". It's a state of consciousness beyond emotions which are just the gateway towards it. Making the shadow conscious within and without is so important in this process. Unfortunately this is what many people try to avoid and suppress. That's why they shy away from information presented in this documentary or other information that causes internal friction.

Spirituality has become so corrupted to the point that it is encouraged NOT to engage the mind and NOT to think, but just "feel" and be "heart-centered". That doesn't mean to avoid feelings, but use them to work through them with your mind engaged, actively gaining Knowledge to learn and un-learn at the same time. It's about learning HOW to think, which many people don't know as it's evident in the many logical fallacies they engage in and are not aware of.
A great tool that helps to to think critically is the Trivium. The Trivium means in Latin "the three ways" or "the three roads" forming the foundation of a medieval liberal arts education. It has been suppressed and taken out of most of modern education, where people are not taught HOW to think but WHAT to think. The three ways of the Trivium are grammar, logic and rhetoric. In that order. Grammar asks the questions of the Who, What, Where, and the When of a subject, discovering, researching, and ordering facts of reality. It comprises basic – systematic Knowledge. Logic answers the Why of a subject, the conclusions based on grammar/research leading to Understanding. Rhetoric provides the How of a subject, applying Knowledge (grammar) and Understanding (logic) expressively leading to Wisdom, or, in other words, useable knowledge and understanding.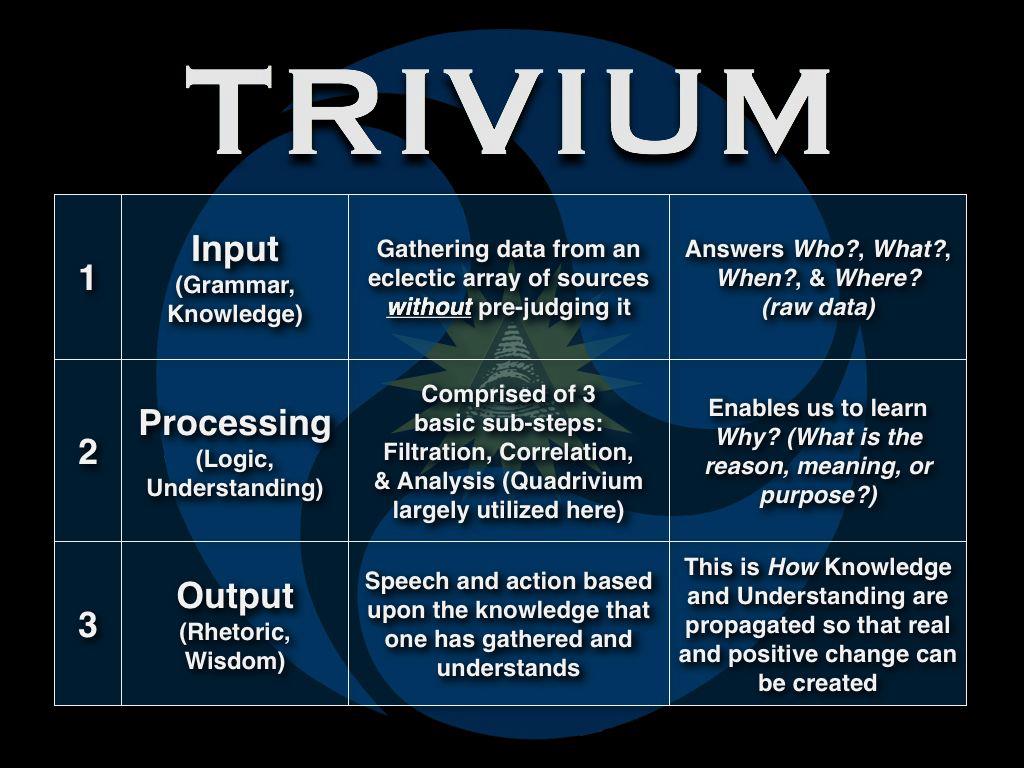 The most common fallacy is to put one's logic (conclusions) before grammar (research). We can see this in many people who have opinions about topics they haven't sincerely researched first. This usually leads to numerous other logical fallacies, like strawman arguments, ad hominem, tu quoque/you too fallacy, bandwagon, appeal to authority, the texas sharpshooter, etc. .
Learning, understanding and applying the Trivium can help to not waste time and energy in unproductive discussions about a topic and it also provides a systematic framework to research any given subject.
‪The Trivium Method vs. The Classical Trivium: A Briefing by Kevin Cole‬:
However, besides learning how to think critically we also need to engage in sincere self-work to calibrate our "reading instrument" (the self) and perceptions. Everyone has subjective blind spots and biases based on upbringing and cultural/social conditioning. Dislodging these programs and unconscious tendencies to lies to ourselves and others takes tremendous work and effort. True self-work, the process of deprogramming and understanding oneself more objectively, cannot be done by oneself. We can become aware of our programs on our own to a certain extent through self-observation, but we may also lie to ourselves and justify our views and actions because we simply cannot see ourselves clearly. Feedback/mirroring from others who are engaged in the same work is required to become more aware of the lies we tell ourselves.
This also includes emotional cleansing because we can't trust our feelings and emotions 100%. Much of what we feel in reaction to certain information can be conditioned responses that have nothing to do with the information or situation at hand. Many people are actually addicted to these emotions which are a hindrance to self-awareness and the process of awakening. There are the programs of "self-calming", "make/be nice" and of course cognitive dissonance, re-enforcing the buffers and armor that can keep us in a subjective tunnel vision, essentially "dreaming to be awake" and living mechanically without true free will.
A great book in that regard is "Strangers to Ourselves" by psychologist Timothy Wilson. It explains how we simply do NOT know ourselves and are slaves to our unconscious programs and bias:
"Why it is that people often do not know themselves very well (e.g., their own characters, why they feel the way they do, or even the feelings themselves)? And how can they increase their self-knowledge? There are undoubtedly many reasons for a lack of self-insight; people may be blinded by their hubris (a favorite Greek and Shakespearean theme), confused, or simply never take the time to examine their own lives and psyche very carefully. The reason…is that much of what we want to know about ourselves resides outside of conscious awareness….

People develop habitual "tendencies of thought" that are nonconscious and that these thought patterns can lead to "unconscious prejudices which we thus form, [that] are often stronger than the conscious; and they are the more dangerous, because we cannot knowingly guard against them."…

It can thus be fruitless to try to examine the adaptive unconscious by looking inward. It is often better to deduce the nature of our hidden minds by looking outward at our behavior and how others react to us, and coming up with a good narrative….

In fact there is evidence that it can be counterproductive to look inward too much. We will see evidence that introspection about feelings can cause people to make unwise decisions and to become more confused about how they feel. To be clear, I am not disparaging all kinds of introspection. Socrates was only partly wrong that the "unexamined life is not worth living." The key is the kind of self-examination people perform, and the extent to which people attempt to know themselves solely by looking inward, versus looking outward at their own behavior and how others react to them….

A disadvantage of a system that processes information quickly and efficiently is that it is slow to respond to new, contradictory information. In fact we often unconsciously bend new information to fit our preconceptions, making it next to impossible to realize that our preconceptions are wrong….

It is fair to say that the tendency for the adaptive unconscious to jump to conclusions, and to fail to change its mind in the face of contrary evidence, is responsible for some of society's most troubling problems….

The adaptive unconscious is an older system designed to scan the environment quickly and detect patterns, especially ones that might pose a danger to the organism. It learns patterns easily but does not unlearn them very well; it is a fairly rigid, inflexible inference maker. It develops early and continues to guide behavior into adulthood….

The human mind is an incredible achievement, perhaps the most amazing in the history of the Earth. This does not mean, however, that it is an optimal or perfectly designed system. Our conscious knowledge of ourselves can be quite limited, to our peril…."
This work never stops and we need to adjust our view of reality as new information comes in. Seeking truth doesn't result in an end of "knowing it all". It's a continues process that expands and changes. It is tightly connected to the inner work we are engaging in, helping us to sharpen intuition as well. So the work is two fold, on an emotional level and intellectual level. Body-awareness is key in that regard. Hence I strongly recommend to have a consistent body-mind practice as well, such as yoga, Qi Gong, dance or getting bodywork on a regular basis. Also, diet affects the way we feel and think. Wheat, gluten, sugar and grains have detrimental effects on our brain, physical and emotional body. There is much research out there these days which has proven that.
It's important to observe the internal process and how deeply programmed we are, the friction that occurs inside when presented with information that contradicts our long held beliefs. That's when many people stop and deny, engaging in black and white thinking, because piercing through that conditioning can be very painful and vulnerable. It's always been for me. It's part of "the work", so humility is needed, admitting to ourselves that we have been wrong about some things we thought to be true. Avoiding this vulnerability results in logical fallacies and rationalizations. It also relates to anger which can become a buffer to avoid deeper feelings of vulnerability. However, "anger" in itself is not bad. It's not about suppressing it but understanding where it's coming from. There is righteous anger that moves us to take action and speak out against injustices and there is "projected anger" when we project our own issues on someone else. Even humor can in many cases be an unconscious buffer to avoid confronting our own unacknowledged wounds.
Separating "the work" to seek truth from our self-image/public image is key, so it doesn't get polluted by internal considering or the the need to be "accepted". Considering other factors from an esoteric perspective and forces working through people in order to vector us away from this path adds even more complexity but is crucial to understand as well. As my friend Humberto Braga said so eloquently:
"When breaking beyond conventional limitations, people will always try to mock, guilt, and shame you for being the bearer of new knowledge and uncomfortable realizations. They will distort your expanded perception through their tiny lens. They will try to make it seem as though you are wrong for being who you are and they'll try to make you feel small. Your playing small does not serve your greater purpose. There is nothing enlightened about limiting your path in life to comfort the illusions of others. Those who seek Objective Truth are bringers of light in to a very uncomfortable darkness, and it will seek to stop you in any way it can. We must not give in to the darkness that tells us to dim ourselves. Every courageous step toward Objective Truth is what liberates others to do the very same. This is the battle to awaken and we must not lose sight of this objective."