TIME OF TRANSITION RETREAT
Twice a year, Bernhard Guenther and Fred Clarke Alvarez host their Time of Transition Retreat in the Peruvian high jungle at the magnificent Chirapa Manta Ecolodge in San Roque de Cumbaza, about 1hr from Tarapoto, Peru.
Next Retreat: November 27th – December 5th, 2017 (FULL)
The dates for the 2018 retreats will be announced in December 2017.
A Transformative Retreat - in Peru
We are in an important pacha (space/time) to transcend the paradigm we are currently living in. As the energies increase during this Time of Transition , bringing up anything that needs to be made conscious of, healed and transmuted, we are called to rise up in our own sovereign power, our individual purposes for being here and reconnect to our inner guidance and the Divine, opening our hearts and minds as we are tuning into the new frequencies of this new dawn through the cellular matrix of our bodies.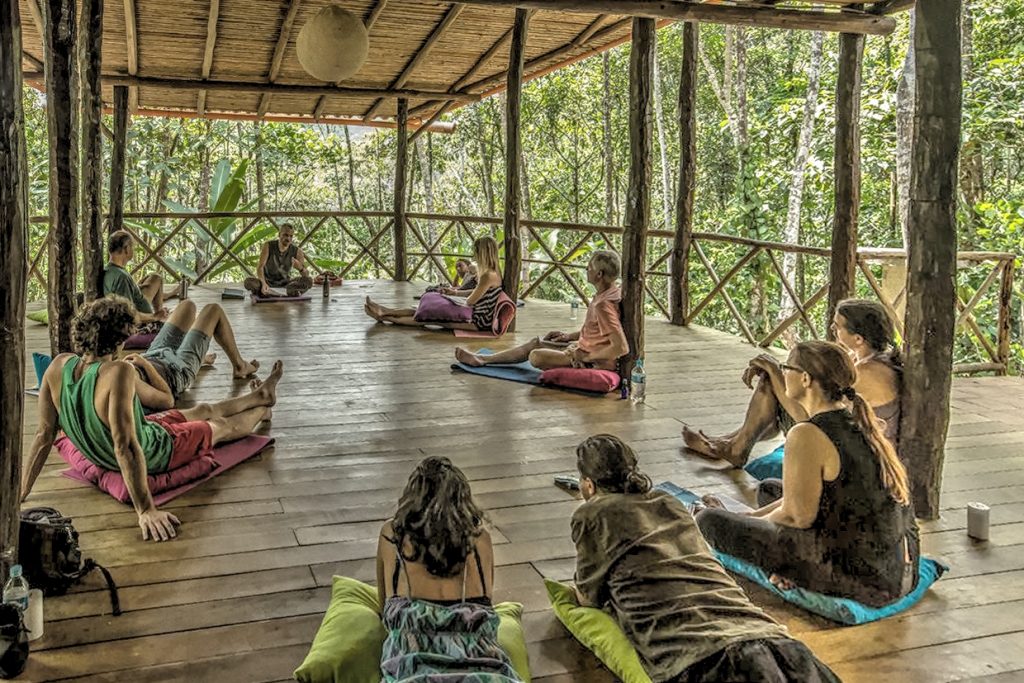 This 9-day retreat is geared towards the ones who are called to make the next leap; for the ones who already see through the workings of the Matrix Control System to an extent and are ready to "answer the call" of their deepest soul calling and connect with others in person who have the same intention as we help each other shine in our embodied essence and anchor a higher frequency in order to transcend the mutant Matrix.
The intention of this retreat is to help you get out of your daily routine, away from the disruption/interference of city frequencies, EMF radiation,"modern-life" distractions, and open the space to engage in deeper healing work and connect with like-minded people. We'll be sharing and doing this work on an experiential level while being immersed in the powerful frequency of the Peruvian high jungle, surrounded by trees, rivers, and waterfalls in an eco-friendly environment.
Together we will engage in various activities, interactive workshops, shamanic ceremonies, and body-mind-spirit practices for the purpose of healing, embodiment, and reuniting the inner male and female; connecting to our wholeness within and to the wholeness of nature.
Talks and Workshops:
• The Matrix Control System and the Path towards Awakening
• The Hero's Journey and the Sacred Marriage of the inner Male and Female
• The Individual Process of Embodiment and Awakening
• The Body-Mind-Spirit connection
• Shadow Work
• Hyper-dimensional Interference and the Keys to Discernment and Protection
• Traps on the Path towards Awakening, how to spot them and counter-act them
• Spiritual Bypassing and Avoidance Strategies
• Limitations of 3D-Thinking
• The Healing Potential of Sound, Frequency and Music
• Medicine plants and how to work with them, preparation and integration (*)
• The polarity of life: "positive vs. negative", "Service to Self (STS) vs. Service to Others (STO)"
• How to make the right choices that are aligned with your true self
• Reality Creation in Alignment with the deeper purpose of your soul's calling
Activities and Practices:
• Meditation, Qi Gong
• Embodiment practices
• Body and Energy Work
• Dance & Movement practices
• Shamanic sound healing ceremony
• Andean Huachuma plant ceremony (*)
• Healing and sharing circles
• Hikes into the jungle
• Soaking/swimming in the rivers and waterfalls
• Skin exfoliation sessions (coconut, cacao & sea salt)
• Cultural adventure trip to a local community and Cacao farm
• Integration work and Individual counseling
• Healthy local organic diet and Superfoods
Time of Transition - A Conversation
Bernhard Guenther & Fred Clarke Alvarez talk about their Time of Transition retreats, life journeys, experiences, medicine plants, sound healing, embodiment and self-work.
Recorded at Chirapa Manta Ecolodge, Tarapoto, Peru – May 2017.
This retreat IS for you if:
1. You're willing to be deeply honest with yourself and looking to go deeper into your soul's truth.
2. You have done a certain amount of work on yourself already but want to take the next step.
3. You are willing to step out of your comfort zone.
4. You are looking to explore new avenues and are willing to learn.
5. Your heartfelt desire is to unlock your soul's potential, expand your horizon, and connect with your unique purpose and soul evolution.
6. You have had a series of super-natural experiences and/or soul awakening symptoms and don't know how to integrate them into your daily life, or have generally a hard time "fitting in" and feel lost.
7. You have a strong passion to go deeper into the exploration of human nature and the mystery of life.
8. You have a sincere desire to connect and work with others.
*A sense of humor and a heartfelt desire to connect with the playfulness of your inner child is also greatly appreciated.
Group size is limited to 9 participants.
(Even though the retreat center could hold up to 16 people we are limiting it to 9 people. It's about quality work in an intimate setting and creating the right synergy and group integrity so there is enough space and time for individual healing/processing sessions as well.)
---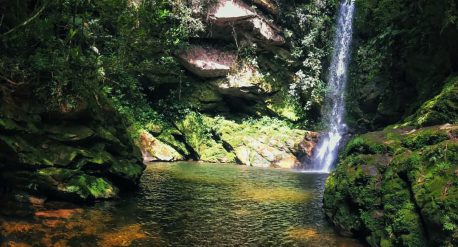 I have returned from our first Time of Transition Retreat (May 2nd – 10th, 2016) in the Peruvian high jungle which I was hosting with Fred Clark Alvarez. It was powerful, intense, beautiful, transforming and healing. 
Group size is limited to 9 participants.
CONTACT
To apply or if you have any questions, please contact Bernhard Guenther by filling out the form below:
Here's what participants had to say about their experience at past "Time of Transition" retreats:
PLEASE CLICK ON EACH BANNER TO SEE THE FULL TESTIMONIAL
Click to View Map of the Area
Click to Close